Solana (SOL) should correct in early 2022 and then rise to $350+.
Lawrence Peter "Yogi" Berra (May 12, 1925 – September 22, 2015), an American professional baseball catcher, once stated, " It is difficult to make predictions, especially about the future ". While I totally agree with him, relatively reliable and accurate predictions can be made, in this case cryptocurrency Solana (SOL). Namely, both forecasting and forecasting are forward-looking processes. Forecasting determines future events using past and present data, i.e. qualitative or quantitative methods, while predictions use random methods such as instincts and superstitions.
The principle of Elliott Wave (EWP) is based on past and present data and a certain set of price patterns that adhere to several rules. Therefore, it is a well-grounded, reliable and accurate method of predicting Solana's future price highs and lows, as well as the paths it may take to reach them.
Let me give an example. At the beginning of October, see here , when SOL was trading at $160, I was looking for the cryptocurrency "… for to move higher into the ideal target area of $200+/-10. " And noted, "… The SOL can even rise to $240 and still be in a complex 4th wave, in which case it would be called an irregular flat . Four weeks later, SOL was trading in the mid-$220 and reached $235. A growth of 30%+ was achieved which my premium crypto trading members took advantage of and profited from. Then I discovered, look here , based on the EWP, "… going back to the ideal $185-200 and then going up to ~$260, before setting up a deeper pull to $140-160 again. "
Although I didn't get the pullback to $185-200 right (no forecasting method is 100% reliable and 100% accurate), SOL peaked at $259.96 on Nov 6, bottomed at $148.10 on Dec 13 and is now trading at $174.90. See Figure 1 below. Furthermore, the (black) major-5 rally is subdivided into five smaller waves (red, intermediate-i, ii, iii, iv and v), with waves-iii, iv and v reaching ideal target areas (red boxes ) .
Figure 1. Weekly charts of SOL candlesticks with EWP count and technical indicators.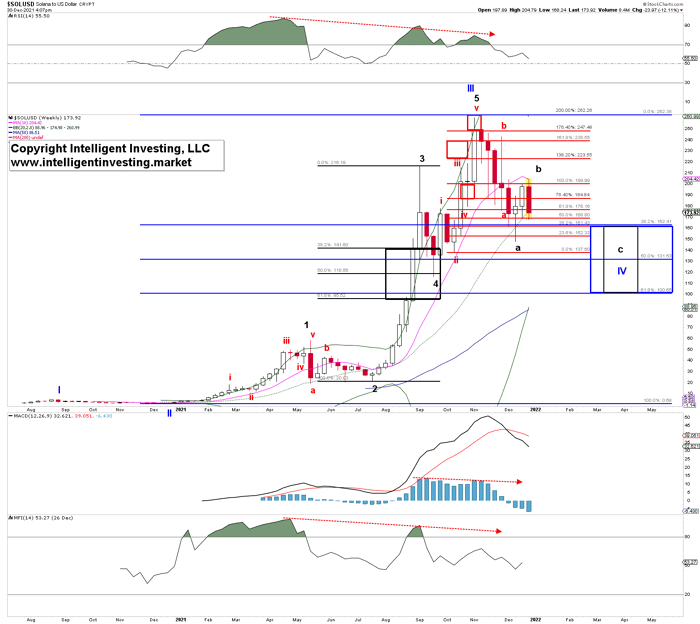 With EWP working reliably and accurately in predicting SOL price peaks and troughs as well as forecast paths, the critical question now is "What's next in 2022?"
SOL is now in a more extensive patch and when finished should go up to $350+
The cryptocurrency should now be in (blue) Primary IV wave. See figure 1 above. A one degree lower 4th wave (black major-4) bottomed in September right around the 50% retracement of the previous major-3 wave. Therefore, it is logical to assume that Primary-IV is doing a similar pursuit as major-4. SOL now has a bottom at the top of the field (blue) target area. So far so good. But the 4th wave is often complex, with at least two waves lower and a trend resistance in between (a, b, c).
Rally to this week's high of $204.79 could now be (black) major-b? Or it may try for another leg higher to $220-240 before starting the next leg lower (wave-c). The crypto will need to close back above the 10-week simple moving average (SMA) to confirm this last option as it is already resistance. A close below the 20-week SMA triggers a more direct downside.
Therefore, the current price action and the way forward for the next few weeks is ambiguous, courtesy of the 4th wave. However, either way, I expect SOL to bottom out around $100-130 for primary wave-IV before wave-V takes hold and pushes the price up perfectly to $350+. Given that Primary-II ran from August to December 2020, I expect Primary-IV to run for a few more months before finishing in early 2022. After that, Primary V should also run for a few months. After it ends, later in 2022, SOL will go through an extended (I think year+) bear market. But for now the focus is on nailing Primary-IV and setting sail for Primary V.
Eventually
EWP is a beautiful, reliable and accurate tool for predicting the price action of SOL and mine premium crypto trading members count good on my application. Based on EWP, I expect a Primary IV wave to be underway which, after possibly a few more twists and turns, should ideally fall around $100-130 in early 2022. From there, a multi-month rally to ideally $350+ should materialize to finish the Bull run that started in July 2020. SOL would need to trade several weeks in a row below $100 to offer the aforementioned Bull top that has already been completed.
Click on a star to rate!
[Total votes:

2

Average rating:

5

]