What is FireFaucet?
FireFaucet is one of the best ways to earn free cryptocurrency available right now. It's not a normal faucet, but more like a Surfbar. You launch it and it automatically declares one or more cryptocurrencies of your choice. It really pays well and the best part is it's fun. This is worth a lot, not many faucets manage to motivate you to be active on their site like FireFaucet .
How can I earn cryptocurrencies on FireFaucet?
First, you need to earn some Auto Claim Points, also called ACPs. As soon as you have an ACP, you can start making claims. You can choose whether you want to spend 1, 2, 3 or 4 ACP every minute. If you choose 4, you use 4 ACP, but you also get 4 times the amount of your chosen cryptocurrency. You will ask now, why would anyone choose anything else after 4, right? Well, for each claim you make, you get 1 "Activity". With enough "Activity" you level up. For each level up you get some satoshi for free and the amount of cryptocurrency you get for each claim also increases. This means that the higher level you are, the more you earn.
How can I get ACP and Activity in FireFaucet?
The cool thing is that for almost everything you do in FireFaucet, you gain ACP and Activity . For example, you can resolve direct links. Depending on the short link you earn between 40 and 50 ACP. Also, for every short link you decide, you get a bonus of 1% for the next short link. The bonus resets every day, but you can easily earn a lot of ACP there.
FireFaucet also has a faucet, you can request once every 30 minutes. You get a random amount of ACP for each claim. FireFaucet also has many different walls to offer. However, offer walls face the same problem as anywhere else, if you do not receive your reward for an offer, FireFaucet cannot help you and you must contact the offer wall directly.
FireFaucet also offers some tasks and PTC ads to earn ACP. PTC ads need to stay focused which makes them annoying to do but they give you 50 ACP per ad. It doesn't matter what you do to get ACP, you also get "Activity".
Every day there is also a competition, the most active user wins 10 Dogecoin. But there is a lot of work to be done first, and the reward is not enough for that. But if you still want to collect a lot of ACP, feel free to try to win the race. The 20 most active people win something.
Can I convert my ACP too?
If you don't want to claim just once a minute, you can also convert ACP to a cryptocurrency of your choice. But if you convert it, you earn 5% less. You also miss the Activity, so you won't level if you convert. That's why it's a good idea to just file a claim while you're doing other things. You can easily run Autofaucet and let it sit in the background while you do other things on your computer. This way you earn money while surfing the web or playing a game.
What is my referral commission?
You get 20% from every cryptocurrency your referral withdraws. This is important to know, you get nothing if they just sign up and never interact with FireFauet. You earn from your referrals only if they withdraw their coins. If your referral withdraws for example Ethereum, you get 20% of his amount as commission. Of course he doesn't get less, you get it as a bonus. You can then exchange it for a cryptocurrency of your choice if you don't want Ethereum. This way you always earn your favorite cryptocurrency from your referrals. By the way, you can withdraw directly to your wallet or to FaucetPay, the minimum withdrawal amount depends on the cryptocurrency.
Our conclusion on FireFaucet
FireFaucet is a great site. The pay is good and it's really a lot of fun. I absolutely hate direct links and never do them except in FireFaucet. The whole system is genius and a lot of fun to level up. If I'm close to leveling up, I sometimes solve some direct links just to get it up today. FireFaucet manages to keep its users motivated perfectly.
FireFaucet admins are also really communicative and they update quite often if something new comes up. They are working very hard to improve FireFaucet and they tell you exactly what they are working on. This is a great sign and shows that they are a legit business. Unfortunately, like most faucets, admins remain completely anonymous, meaning you have absolutely no way to do anything if they suddenly decide to shut down FireFaucet. That's why you should always withdraw your money as soon as you can. That way you don't lose much if they go bankrupt or try to scam people.
But we're pretty sure they won't scam anyone, they've been online since 2018 and everyone has gotten their money so far. That's why we can only recommend FireFaucet, it's one of the most fun and best paying faucets out there.
Proof of payment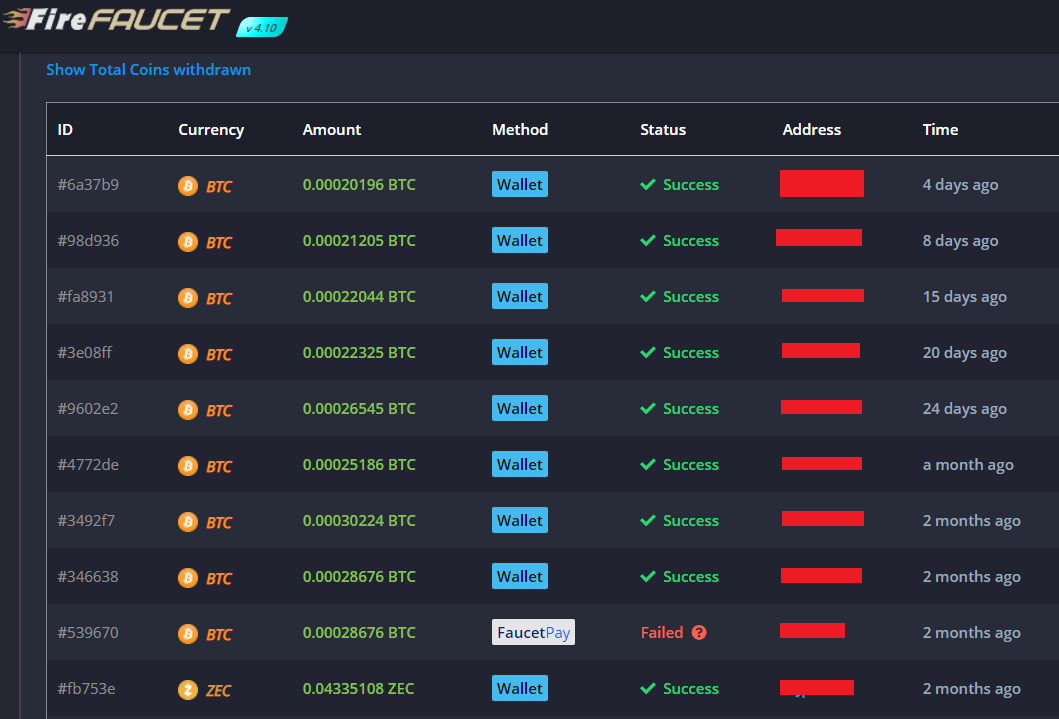 Click on a star to rate!
[Total votes:

5

Average rating:

5

]